Brass band takes centre stage in Co-op's heartwarming Christmas advert
5 December 2019, 12:08
Step aside, sleigh bells: it's time for the humble brass band to take centre stage this Christmas.
Co-op has enlisted the help of a brass band in their heartwarming new Christmas advert.
Trombonists, trumpeters and euphonium players gather in a family home to play a gentle rendition of The Pogues' 'Fairytale of New York'.
Their performance acts as a backing track to a festive family scene as a mother, father and daughter enjoy a mince pie and a hot drink together.
BTM Brass Band, who are based in Bedwas, South Wales, say they are "proud" and "thrilled" to star in the TV advert, which launched on Sunday 1 December.
Watch more: E.T. stars in Sky's Christmas ad, complete with John Williams' brilliant score >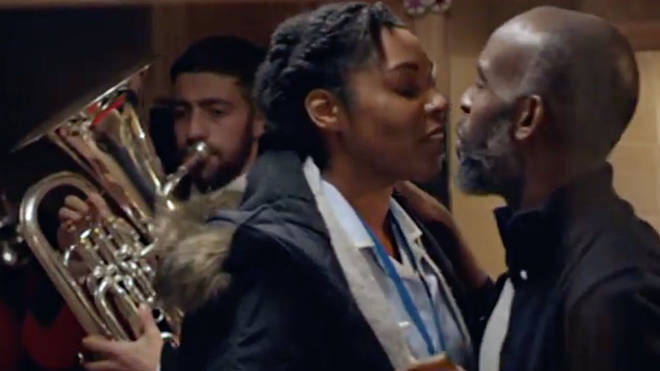 "It has been a very exciting project to be part of and we have been bursting to share our news with people and to see our band on TV this Christmas-time," said Mark Hutcherson, Musical Director for BTM Brass Band's Next Generation Youth group.
"Our band thrives on co-operation, working together and, community spirit. We focus on encouraging new players (of any age!) and the progression of our children and young people of paramount importance.
"We encourage the young players to aspire to improve and, grow into the new generation of players who will take part in competitions, special events and festivals in our local community and beyond."
Read more: What's the music in this year's John Lewis Christmas advert? >
BTM Brass Band are featured in the advert as one of over 4,000 causes the Co-op has supported this festive season, with a £17 million hand-out through its membership scheme.
The band say they will use the support from the supermarket's membership scheme to buy new music, and to refurbish instruments for youth bands.