The best classical music and opera online streams available in 2021
26 February 2021, 18:19 | Updated: 2 March 2021, 09:26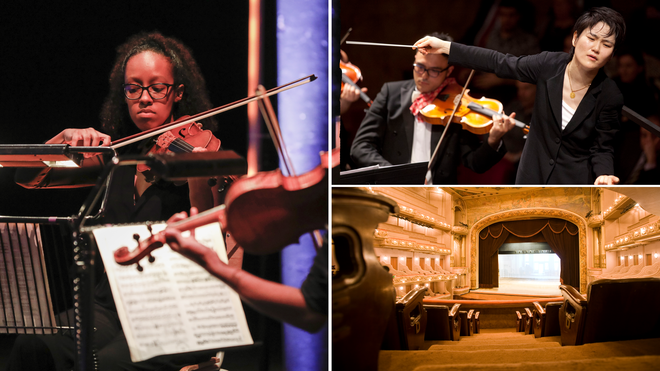 An updating list of the major classical concerts and events being streamed online as a result of the ongoing coronavirus measures around the world.
Measures taken worldwide to curb the spread of coronavirus have seen numerous classical concerts and events postponed and cancelled, and concert halls around the world closed for indefinite periods, since March 2020.
Countries banned gatherings, tightened their borders, and many have now seen various lockdowns for months. Some things are slowly starting to open up, but seeing live music still remains a rare treat.
As many of us are continuing to stay at home to work, self-isolate and look after the family, we're lucky that many major classical concerts and events are being held without audiences and streamed online for us to see – for free in many cases – something that brings comfort, solidarity and some beautiful relief in trying times.
Click here for the latest coronavirus advice from the NHS >
Upcoming classical concerts and opera being live streamed
8 January – 31 March, 17:30 GMT: Artist management company Only Stage presents its All About Bach! festival online, featuring star soloists like violinist Charlie Siem, electronics pioneer and composer Gabriel Prokofiev, and cellist Luca Franzetti. Nine concerts in total, which you can find listed here, will drop on YouTube and Only Stage's website week-to-week, and will be available on-demand after their initial outings.
Visit: www.onlystage.co.uk/digital-season
29 January – 30 May: Princeton Symphony Orchestra (PSO) has joined forces with South Africa's acclaimed Buskaid Soweto String Ensemble to present a stunning on-demand concert series, curated from the ensemble's most memorable concert moments of the last five years. The series, which is just $5 per concert, lets us experience the virtuosity and vibrancy of this extraordinary group of players through their performances of classical, pop, and uniquely South African music.
Visit: princetonsymphony.org/calendar/buskaid-musical-miracle
28 January – 29 April: St Martin-in-the-Fields has launched Fresh Horizons, a new series of 14 concerts featuring internationally acclaimed artists including Chineke!, Stile Antico, Peter Donohoe, The Gesualdo Six, London Mozart Players and Academy of Martin-in-the-Fields, all recorded in the beautiful surroundings of St Martin-in-the-Fields church.
Visit: www.stmartin-in-the-fields.org
13 February – 22 April: VOCES8 Foundation presents 'Live From London Spring', an online offering of concerts from favourite choral artists, marking Valentine's Day, Passiontide, International Women's Day and Mother's Day, before culminating in a flourishing of creativity for Earth Day. A wonderful online festival aiming to sow the seeds for a summer of re-growth and renewal.
Visit: page.inplayer.com/livefromlondonspring
18 February – 26 May, 1:05 GMT: Virtuoso pianist Howard Shelley OBE performs favourite works – both little- and well-known – from St. John's Smith Square in London, as part of his 'Piano Explored' series with London Mozart Players. There will be works for piano and orchestra from Mozart and Shostakovich, as well as gems from Saint-Saëns and Mendelssohn, and a couple of pieces ripe for discovery from Johann Nepomuk Hummel and Ignaz Moscheles.
Visit: www.londonmozartplayers.com/piano-explored
3 March, 19:00 GMT: Classical music supergroups don't come much better than cellist Sheku Kanneh-Mason, duo Tom Poster and Elena Urioste, violinist Hyeyoon Park, and a bunch of enthusiastic Music Masters' pupils. Watch a performance from these wonderful musicians, plus appearances from violinist Nicola Benedetti, pianists Isata Kanneh-Mason and Benjamin Grosvenor, the Harlem Quartet, and violinist Randall Goosby in this Ambassadors For Change event from the charity.
Visit: musicmasters.org.uk/ambassadors-for-change
5 March, 17:00 GMT: The Bromsgrove presents its third online recital in celebration of its 40th anniversary. Sign up now to watch former competition winner Luke Jones perform a programme of Chopin and Rachmaninov.
Visit: bit.ly/bimcrecitals
7 March, 18:30 GMT: Conway Hall presents a fundraising concert of chamber music by Beethoven, Mozart, Haydn and more – performed by Zoffany Ensemble and presented by our very own Catherine Bott. Zoffany is a chamber group, founded by violinist Manon Derome, and they're raising money for musicians at this difficult time.
Visit: conwayhall.org.uk
8 March, 13:00 GMT: Take a Monday lunchtime break, and enjoy a free hour or so of wonderful solos and duos by Mozart, Prokofiev, and more – performed by fantastic trumpet, viola, bassoon and piano players from Royal Birmingham Conservatoire.
Visit: bcu.ac.uk/conservatoire
8 March, 20:00 GMT: Violinist Madeleine Mitchell and the London Chamber Ensemble perform a live-streamed concert from St John's Smith Square, celebrating music by British women spanning a century. An International Women's Day celebration, the online concert will features works by Rebecca Clarke, Judith Weir, and Errollyn Wallen who has written a new work for the occasion.
Visit: www.sjss.org.uk/online-performances
11 March, 19:00 GMT: Violinist Jennifer Pike performs a recital of works by Mozart, Szymanowski, Paganini and Massenet, recorded at Manchester's Stoller Hall.
Visit: stollerhall.com/whats-on/jenniferpike
12 – 14 March, 19:00 GMT: How do you like your opera laced with a few scares thrown in? The minds at Belfast Ensemble have come up with a family-friendly concept that's just that. The Musician: A Horror Opera for Children, which features music by Irish composer Conor Mitchell, describes itself as a 'darkly comic children's opera' that 'retells a familiar story' – that of the Pied Piper and his obedient rat followers. Well, we're intrigued...
Visit: youngatart.co.uk
12 March, 11:00 – 20 March, 20:00 GMT: Philharmonia Orchestra joins forces with Royal Shakespeare Company, Manchester International Festival and several specialist immersive technology organisations and pioneers to present 'Dream', a spectacular virtual concert that takes place in a magical, midsummer forest. Promising a 'moonlit journey', the project ignites theatre and orchestral music with technology in an extraordinary vision of the future of live performance.
Visit: dream.online
15 March, 13:00 GMT From guitar repertoire of the Renaissance to piano music by Haydn – and works for flute and piccolo from the 19th and 20th centuries – Royal Birmingham Conservatoire presents a Monday lunchtime concert of familiar works and new discoveries.
Visit: bcu.ac.uk/conservatoire
19 March, 13:00 GMT: Star players from the Royal Academy of Music, directed by violinist Clio Gould, perform Elgar's Introduction and Allegro, Britten's Variations on a Theme of Frank Bridge, and the world premiere of a new piece by Irish composer Stephen McNeff.
Visit: tickets.ram.ac.uk
19 March, 19:30 GMT: English Symphony Orchestra presents a wonderful exploration of Elgar, through an arrangement of his music into Miniatures for Cello and Strings. The orchestra is conducted by Kenneth Woods, and the soloist is cellist Raphael Wallfisch.
Visit: www.eso.co.uk
21 March: ...is Early Music Day. This year, the National Centre for Early Music is celebrating with a residency with the award-winning ensemble The Gesualdo Six. The vocal consort will perform an online concert to mark the day, while also honouring J.S. Bach's birthday, which falls at the end of March.
22 March, 13:00 GMT Royal Birmingham Conservatoire string players present works by Liszt, Mozart, Bach and Franck in this wonderful Monday lunchtime concert. So take a break, microwave last night's dinner, and… escape with wonderful music.
Visit: bcu.ac.uk/conservatoire
Until 24 March, 19:30 GMT: Classic FM's Orchestra in the South of England, Bournemouth Symphony Orchestra (BSO), is streaming its 2021 season online due to the pandemic. Captured at BSO's home concert hall, Lighthouse, Poole, the concerts are performed to a small audience – and highlights include Strauss, Mahler and Brahms (Wednesday 12 January), Vaughan Williams' Fifth Symphony (27 January) and Beethoven's Fourth Piano Concerto, performed by Sunwook Kim (17 March). All concerts are available to stream online on demand for 30 days after their original broadcast date.
Visit: bsolive.com
Until 25 March: The Hallé presents the streamed edition of its 2021 Winter Season, with Sir Mark Elder and other Hallé conductors at the helm. Featuring nine concerts streamed from the Hallé's Manchester homes, The Bridgewater Hall and Hallé St Peter's in Ancoats, the series includes music by Shostakovich, Wagner, Beethoven and Strauss, a new staging of Stravinsky's The Soldier's Tale, and some newly commissioned works too – as well as some starry soloists.
Visit: www.halle.co.uk
29 March, 13:00 GMT: Take Terry Riley's minimalist masterpiece In C, add to it an ensemble of saxophones, and add it to your Monday lunchbreak for a sound that'll revitalise you right out of that Monday morning slow feeling… thanks to the talented Royal Birmingham Conservatoire Saxophone department.
Visit: bcu.ac.uk/conservatoire
31 March, 13:00 GMT: Watch the Royal Academy of Music's Spring Recital, featuring Academy's Song Circle performing a selection of songs dedicated to the season of spring – including works by Grieg, Butterworth, Debussy and Wolf.
Visit: tickets.ram.ac.uk
Until 30 June: Manchester Camerata presents 'Renew', a soothing, meditative programme of music by Tchaikovsky, Philip Glass and Roxanna Panufnix compiled to help us unwind and reflect on the challenging times we're in – with a sense of renewal and beauty at its heart. Watch on-demand, and on a pay-what-you-can basis. 'Renew' is presented in collaboration with the arts centre, HOME.
Visit: homemcr.org/production/renew-manchester-camerata
Recent past classical concerts on demand
1 February, 19:00 GMT: Ailish Tynan, James Gilchrist, Marcus Farnsworth, Christopher Glynn, Mark Eden and Ian Wilson perform a beautiful selection of songs by Stephen Dodgson. Streamed live from St Gabriel's Pimlico, the recital will be available on demand afterwards.
Visit: www.eventbrite.co.uk
3 February, 19:00 GMT: Singers from the Royal College of Music's Opera Studio perform scenes from Mozart's Così fan tutte. Innovative staging sees these rising stars of opera making full use of the college's beloved Britten Theatre, directed by guest artist Olivia Fuchs.
Visit: www.rcm.ac.uk
4 February, 18:00 MST: Argentinian pianist Ingrid Fliter performs a beautiful concert of works by Chopin – with an exclusive interview between Filter and Tippet Rise Art Center's artistic advisor, Pedja Muzijevic, in the interval.
Visit: tippetrise.org
6 February, 18:00 GMT: Star soprano Anna Netrebko performs live as part of Met Opera's 'Met Stars Live in Concert' series. She's a soprano known for bringing the fireworks, and she's planning a programme of the finest moments from the roles she is known and loved for. Netrebko was the first classical musician to be included in Time magazine's 'Time 100' list, and she debuted at the Met in 2002.
Visit: metstarslive.brightcove-services.com
10 February, 19:00 GMT: Classic FM's composer in residence, Debbie Wiseman OBE, delivers the Royal College of Music's annual Crees Lecture. Entitled 'Every Note Paints a Picture', the talk will explore the art of film composition, with Debbie tackling aspects of the collaboration process, the language of film music, working with session musicians, working in recording studios, and working with film teams.
Visit: www.rcm.ac.uk
11 February 2021, 12:00 GMT: The Hallé orchestra presents 'Movie Classics', featuring classical works that have been used in film soundtracks, from Elgar's Nimrod to music from Verdi's La Traviata. The concert, available until 11 May, was recorded at Bridgewater Hall with Stephen Bell on the podium, and soloists Sergio Castelló-López and Nardus Williams.
Visit: www.halle.co.uk
12 February, 12:00 PST: Pianist Simone Dinnerstein performs music from her new recording, A Character of Quiet, in an intimate recital filmed at her Brooklyn home. The album was recorded during quarantine, when the sounds of the streets quieted for a brief time as New Yorkers were confined to their homes, and Dinnerstein's performance of Philip Glass' Etudes No. 16 and No. 2, and Schubert's Sonata in B-flat was caught on camera. Available to watch until 19 February.
Visit: meanycenter.org
14 February, 18:30 GMT: The Stradivarius Piano Trio perform a special Valentine's Day concert in aid of the Alzheimer's Society, streamed live from the beautiful Leonardslee House in West Sussex. The trio – musicians Andrew Bernardi (violin), Jonathan Few (cello) and Maria Marchant (piano) – are joined by Classic FM's very own John Suchet, who will host the evening. Tickets to watch cost £10 with all proceeds going to support the musicians, and the Alzheimer's Society, the UK's largest dementia charity.
Visit: bernardimusicgroup.com
14 February, 19:00 GMT: Pianist Warren Mailley-Smith performs a live, streamed concert of stunning romantic classics for the piano, live from Finchcocks. Watch, and even enjoy with a Valentine's hamper including a red rose, bottle of prosecco, scented candles and champagne truffles, for a little extra treat. Tickets and hamper prices in the link below.
Visit: www.ticketsource.co.uk
14 February, 19:30 GMT: Guitarist Craig Ogden performs an exclusive Valentine's Day recital, thanks to our friends at Classic FM Romance. Watch performances, in front of a log fire, of romantic guitar works by Piazzolla, John Brunning and more – via Classic FM's Facebook Page and YouTube Channel.
Visit: facebook.com.ClassicFM or youtube.com/ClassicFMOfficial
14 – 21 February: Music@Menlo Chamber Music Festival & Institute presents Emerson String Quartet in an online recital of works by Purcell and Beethoven. Join for a fascinating discussion with the quartet members before hearing the music. The Emerson String Quartet was formed at the Juilliard School in 1976, and continues to be one of the defining quartets of our time. The recital is available to watch on demand until 21 February.
Visit: musicatmenlo.org
17 February: Australian Chamber Orchestra premieres the first of its 'ACO Studiocast' online concerts. 'Rapture and Revolution' features Richard Tognetti performing Vaughan Williams' The Lark Ascending, and Tognetti's arrangement for string orchestra of Beethoven's Cavatina & Grosse Fuge – all filmed at Sydney's beautiful Town Hall. The concert will be available on demand after the premiere, and following instalments include 'Bach and the Beyond' (31 March) and Tchaikovsky Serenade (7 July).
Visit: www.aco.com.au
17 February, 19:00 GMT: Musicians from the Royal College of Music's Woodwind department present Jean Françaix's atmospheric setting of themes from Mozart's The Magic Flute, recorded live at the Royal College of Music in London on 22 October 2020.
Visit: www.rcm.ac.uk
19 February, 18:00 GMT: This is a fun one. Birmingham Contemporary Music Group (BCMG) invites us to take part in Harrison Birtwistle's Roddy's Reel, providing 'thunder' by clapping and conjuring 'wild Scottish winds' by shh-ing. We can't be together in person, so the ensemble is calling for audience members of all ages – from across the world – to join in online in a special recording session with BCMG clarinettist Mark O'Brien. Click here to find out how to get involved.
Visit: www.bcmg.org.uk
19 February, 19:00 GMT: Lantivet Duo performs a programme of only the most uplifting music to help banish lockdown blues. Enjoy a refreshing mix of Colombian, Russian and American Old Time folk music, along with Beethoven's cheerful Champagne Sonata for violin and piano. Warning: You might not be able to resist cracking open a bottle of bubbly for this one. The concert is free, but the wonderful musicians of the Lantivet Duo are welcoming donations, the proceeds of which will be split between the musicians and Crisis UK, a charity that does crucial work campaigning for the change needed to end homelessness for good. Watch the duo's mash up 'Wellerman', of TikTok Shanty fame, and 'Glory in the Meeting House' below.
Visit: www.lantivetduo.com or www.facebook.com/lantivetduo
21 February, 19:30 GMT: Chineke! Orchestra presents a duo recital – featuring pairings of violinist Sarah Daramy-Williams and violist Natalia Senior-Brown, and violinists Julian Gil Rodriguez and Alix Lagasse – as part of the 2021 African Concerts series, streamed from London's Africa Centre. Expect wonderful music from Errolyn Wallen and Joseph Boulogne among others.
Visit: youtube.com or facebook.com
Until 22 February: OperaUpClose presents its new online production for schools and families, Sammy and the Beanstalk. It's an accessible, kids-oriented musical story about bravery and kindness, and it aims to tackle the isolation we've all experienced in the last year, and are still experiencing now. Tickets are £5, or free for schools and families on low incomes.
Visit: www.operaupclose.com
24 February, 19:00 GMT: Talented percussionists from the Royal College of Music highlight the range and depth of their craft with a series of impressive performances. Among these are the duet The Game of the Century, which depicts a famous chess match played in 1956 between Donald Byrne and 13-year-old Bobby Fischer, and Cangelosi's Bad Touch, a stunning visual creation to be performed in total darkness.
Visit: www.rcm.ac.uk
Until 26 February, 19:30 GMT: Royal Scottish National Orchestra (RSNO) presents a digital season of 10 wonderful orchestral concerts – celebrating 250 years of Ludwig van Beethoven, who said, "There is nothing more beautiful than distributing happiness to many people." Amen to that. Watch via RSNO's digital channels.
Visit: www.rsno.org.uk/digital-season
27 February 2021, 13:00 EST/19:00 CET: Star soprano Sonya Yoncheva performs operatic favourites and show-stoppers from Berlin, as part of the 'Met Stars Live' series of online concerts from the iconic opera company.
Visit: metstarslive.brightcove-services.com
28 February, 19:30 GMT: Chineke! Orchestra presents a concert of chamber works by Errollyn Wallen, Coleridge-Taylor Perkinson, Florence Price, Ignatius Sancho, Matthew Evan Taylor, Joseph Boulogne, Trevor Weston and Valerie Coleman. Part of the 2021 African Concerts series, the event will be streamed from London's Africa Centre.
Visit: youtube.com or facebook.com
28 February, 16:00 GMT: Birmingham Contemporary Music Group presents 'Back to the Beginning', an online concert of music by British and Chinese composers, including Ma Xiao-Qing, Jia Guoping, Julian Anderson, Sir Harrison Birtwistle and Charlotte Bray.
Visit: www.bcmg.org.uk
28 February, 16:00 ET: The King's Singers announces and performs the winning compositions from their New Music Prize, as part of Washington National Cathedral's Sacred Choral Music Online Festival. The winning composers each receive a cash prize, a premiere performance and recording of their work, and the opportunity to have their piece published by Walton Music. And the event will also include four honourable mentions and 11 commended compositions named, out of the staggering 347 submitted.
Visit: tix.cathedral.org
1 March, 13:00 GMT: Royal Birmingham Conservatoire presents a lunchtime concert of free music, expertly performed by the brilliant students – today from the Vocal Department, performing a selection of operatic arias and excerpts by Britten, Debussy, Gluck and Strauss. Lunch breaks are vital, and this is just the ticket.
Visit: www.bcu.ac.uk/conservatoire