Who won Britain's Got Talent 2019? Meet Chelsea Pensioner Colin Thackery
3 June 2019, 14:57 | Updated: 3 June 2019, 15:13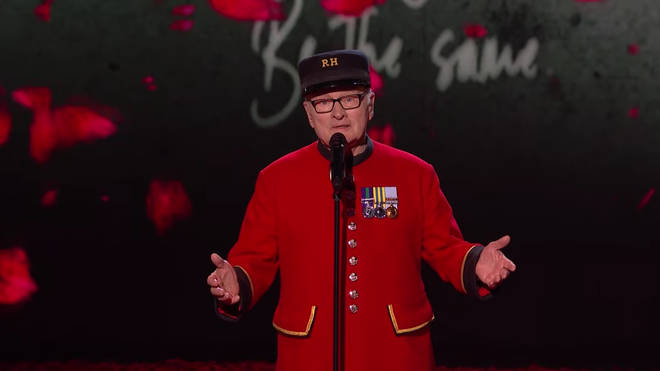 Watch the moment Colin Thackery stole the nation's hearts and won 'Britain's Got Talent'.
Chelsea Pensioner Colin Thackery's Britain's Got Talent finale performance of 'Love Changes Everything' stole the nation's hearts on Sunday night, and made him 2019's winner.
Dressed in the signature red ceremonial Royal Artillery uniform of Chelsea Pensioners, Thackery performed a moving cover of the Andrew Lloyd Webber song, accompanied by a male backing choir of other Chelsea Pensioners.
Who is Colin Thackery?
Originally from Norfolk, Thackery was a member of the British armed forces for 25 years, serving in the 35th regiment of the Royal Artillery. He dedicated his 2019 Britain's Got Talent audition to his late wife, Joan.
When is the Royal Variety Performance 2019?
The 89 year old will perform in front of Her Majesty the Queen at this year's Royal Variety Performance on 17 November 2019.
"I served my Queen for 25 years and to think I could sing for her would be the end," he told hosts Ant & Dec at the Britain's Got Talent finale.
When asked why he went on the show in the first place, Thackery admitted to presenter Stephen Mulhern that it was pretty much "for a dare" made over a curry at his local club. He said he would be able to "die happy" if he could perform for the Queen.
Read more: Susan Boyle and Michael Ball sang a duet on Britain's Got Talent 2019 – and viewers weren't impressed
As well as achieving his dream of singing for her Majesty, Thackery has won £250,000. He has said he will use his prize money to make a donation to Royal Chelsea Hospital.
What was the uniform Colin Thackery was wearing on Britain's Got Talent 2019?
Thackery was wearing the traditional scarlet uniform of the Royal Artillery, which these days is donned by Chelsea Pensioners (former soldiers of the British Army over the age of 65 that reside at The Royal Hospital Chelsea) and for ceremonial occasions.
Who were the runners-up on Britain's Got Talent 2019?
Masked Magician X was the runner up, and shocked the BGT judges, audience and the 8.2 million viewers who tuned in by revealing himself to be 2018 contestant Marc Spelmann. Magician Ben Hart took third place.