Tetris for one-man string quartet will be in your head forever
28 March 2017, 16:20 | Updated: 28 March 2017, 16:28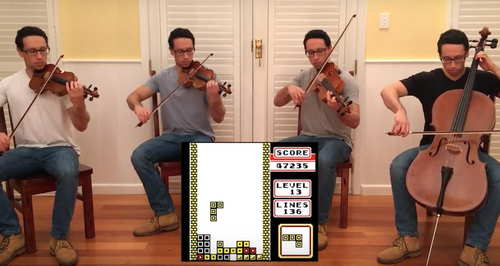 We all love a game of Tetris. But we *really* love a Tetris string quartet.
YouTuber One Nerd Band has created a genius string quartet arrangement of the Tetris theme. To add further brilliance, he plays all four parts himself in some sort of insane multi-screen illusion - yes, violin, viola and cello. Talented guy!
He said: "Like many people, I love playing the addicting game of Tetris, and would always find myself singing the theme music long after I had stopped playing. So I thought why not make a better version of the original game boy audio theme song."
The original theme is taken from a Russian folk song "Korobeiniki", which was arranged for the 1989 release of the game by Japanese composer, musician and sound designer Hirokazu Tanaka.
Listen to One Nerd Band's awesome arrangement below, and if you like video game music, check out Classic FM's new video game programme, High Score, presented by BAFTA Award-winning video game composer Jessica Curry.