Ballerina's 'Not Beethoven' sequence will challenge your expectations of ballet
8 July 2020, 16:18 | Updated: 8 July 2020, 16:43
Brawn, Beethoven and fierce faces: don't expect typical ballet niceness in this sequence featuring a lone dancer, scaling the abandoned spaces of the stunning Komische Oper Berlin.
This striking ballet video is all about muscle, modern spins and fierce faces.
Featuring a lone dancer scaling the stairs and abandoned spaces of Berlin's stunning Komische Opera theatre, it pairs traditional ballet shapes with modern dance styles and a stunning backdrop – played out with maximum drama (watch above).
Alizée Sicre – a dancer with Berlin State Ballet – assemblés, grande jetés and pirouettes through the empty building, punctuating her craft with fierce faces and muscle brandishes worthy of any ballet dancer's brilliant strength.
Read more: Hong Kong Ballet's new 'Bolero' video is just wonderful >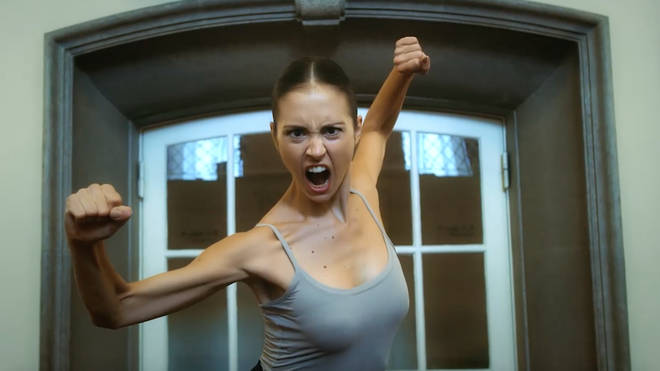 Shaking any preconceptions of the style, Sicre stares down the lens almost daring us to assume ballet is dainty, traditional and always safe – when it's clearly anything but.
The skilled dancer silently screams and runs onto stage – all this accompanied by a fiery violin-led work by Iranian composer Arash Safaian, performed by Norwegian violinist Eldbjørg Hemsing, German pianist Sebastian Knauer and the Zurich Chamber Orchestra.
The piece of music is a movement from This Is (Not) Beethoven – Variations by Safaian, which aims to capture the essence of Romantic revolutionary great, Beethoven, in a contemporary work.
Read more: Paris Opera's ballerinas dance from home in tribute to key workers >
"Beethoven's music is, if you like, not really music for me any longer," the composer says. "It has acquired the quality of an intensive memory. It frames and sums up the emotions of my childhood."
Our dancer ending up on that stage, actually, is a pretty poignant vision for the times we're in now.
Whether it was planned before or since coronavirus and its impact, the filmmaker Til Obladen has Sicre on a stage faced by a totally empty auditorium – reflecting those concerts-without-an-audience we have seen since lockdown began in March.