Gustavo Dudamel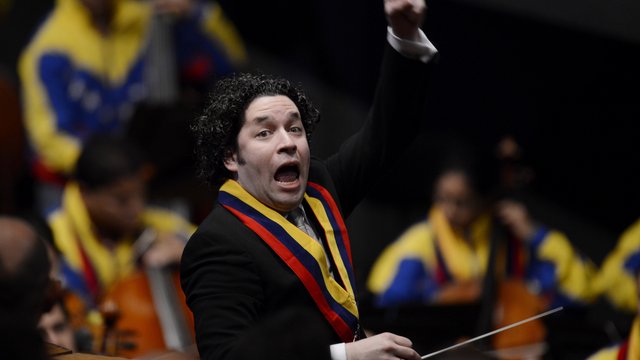 Concurrently serving as Music Director of the Los Angeles Philharmonic, the Gothenburg Symphony Orchestra, and the Simón Bolívar Symphony Orchestra of Venezuela, the impact of Dudamel's musical leadership is felt on three continents.
Born in 1981 in Venezuela, Dudamel began his musical studies with violin lessons at the Jacinto Lara Conservatory. In 1996 he began his conducting studies with Rodolfo Saglimbeni and the same year was appointed Musical Director of the Amadeus Chamber Orchestra.
While his commitment to his music director posts in the United States, Sweden and Venezuela now account for 43 weeks of his yearly schedule, Dudamel also guest conducts with a few of the world's greatest orchestras each season. This season he returns to the Vienna Philharmonic and the Berlin Philharmonic, along with the Orchestre Philharmonique de Radio France in Paris, La Scala and the Israel Philharmonic.
Entering his third season as Music Director of the Los Angeles Philharmonic, Dudamel's contract has already been extended through 2018-19, the LA Phil's centennial season.
An exclusive Deutsche Grammophon artist since 2005, Gustavo Dudamel has fifteen recordings on the label ranging in repertoire from Stravinksy's La Sacre du Printemps to Beethoven's Symphonies Nos. 5 and 7. His most recent release is of Bruckner, Nielsen and Sibelius symphonies with the Gothenburg Symphony Orchestra.

Did you know?
Dudamel grew up surrounded by music. His father was a trombonist and his mother a voice teacher. Dudamel himself played violin from the age of 10.
View more
Best Gusatvo Dudamel recordings
Symphony No.5 in C# minor (4) Gustav Mahler

Conductor: Gustavo Dudamel

Ensemble: Simon Bolivar Youth Orchestra of Venezuela

Record label: Deutsche Grammophon

Catalogue ID: CFM D4